The 3D-video application project was exhibited as an interactive installation in the scope of a monthly event called 'V&A Digital Features'. Incorporating an open studio-like atmosphere, most of the exhibiting artists attended the event in order to demonstrate and discuss their work with the audience.
The project was installed in a slightly darkened studio space alongside several other interactive and static artworks. Visitors were encouraged to take a seat and interact with the application. Two cameras recorded 10 users in the process of exploring the virtual gallery, one camera facing the user and another one pointed towards the projection screen. The input interaction devices were a keyboard and a mouse.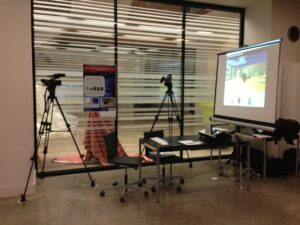 Ten users were video and audio recorded while they were interacting with the application. We observed their body posture, hand movement and gesture, and facial expression.